What Are The Stages of Melanoma?
Cancer staging is how doctors describe the extent of cancer in your body. Staging is defined by the characteristics of the original (primary) melanoma tumor and if/how far it has spread in your body.
Melanoma is divided into stages using five Roman numerals (0 through IV) and up to four letters (A through D) that indicate a higher risk within each stage. The stage is determined mostly by specific details about the tumor and its growth that are tallied in a system called TNM. Read more about the TNM system.
Your stage is important because cancer treatment options and prognoses are determined by stage.

Overview of Stages O-IV
There are five melanoma stages: 0 through IV. Some stages have subgroups; letters A through D are used to show those subgroups. The higher the number and letter, the more extensive the disease and (generally) the worse prognosis. For example, Stage II is more serious than Stage I, and Stage IIIC is more serious than Stage IIIB.
Stage 0 Melanoma (in situ)
In Stage 0 melanoma, the malignant tumor is still confined to the upper layer of the skin. The cancer cells are only in the outer layer of the skin (the epidermis) and have not grown any deeper (into the dermis). The melanoma is in situ, which means "in place" in Latin. There is no evidence the cancer has spread to the lymph nodes or distant sites (metastasis). Read more
Stage I Melanoma (localized tumor)
In Stage I melanoma, there are cancer cells in both the epidermis and dermis. A Stage I melanoma is up to 2mm thick (Breslow thickness) and may or may not have ulceration. There is no evidence the cancer has spread to lymph nodes or distant sites (metastasis). There are two subgroups of Stage I melanoma: IA and IB. Read more
Stage II Melanoma (localized tumor)
Stage II melanoma is defined by tumor thickness and ulceration. There are cancer cells in both the epidermis and dermis. There is no evidence the cancer has spread to the lymph nodes or distant sites (metastasis). There are three subgroups of Stage II: IIA, IIB, IIC. Read more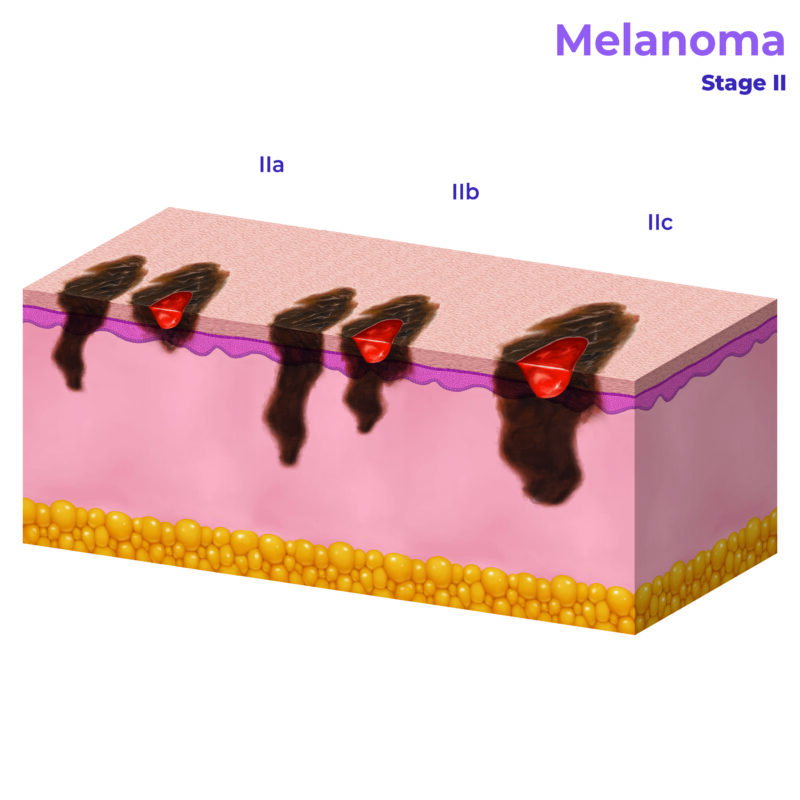 Stage III Melanoma (regional spread)
Stage III melanoma is defined by the level of lymph node involvement and ulceration. In Stage III melanoma, the cancer has spread to one or more regional lymph nodes or has developed a deposit of melanoma in the skin or dermis along the lymphatics prior to reaching a lymph node called an in transit or satellite metastasis. There is no evidence the cancer has spread to distant sites (metastasis). There are four subgroups of Stage III melanoma: IIIA, IIIB, IIIC, IIID. Read more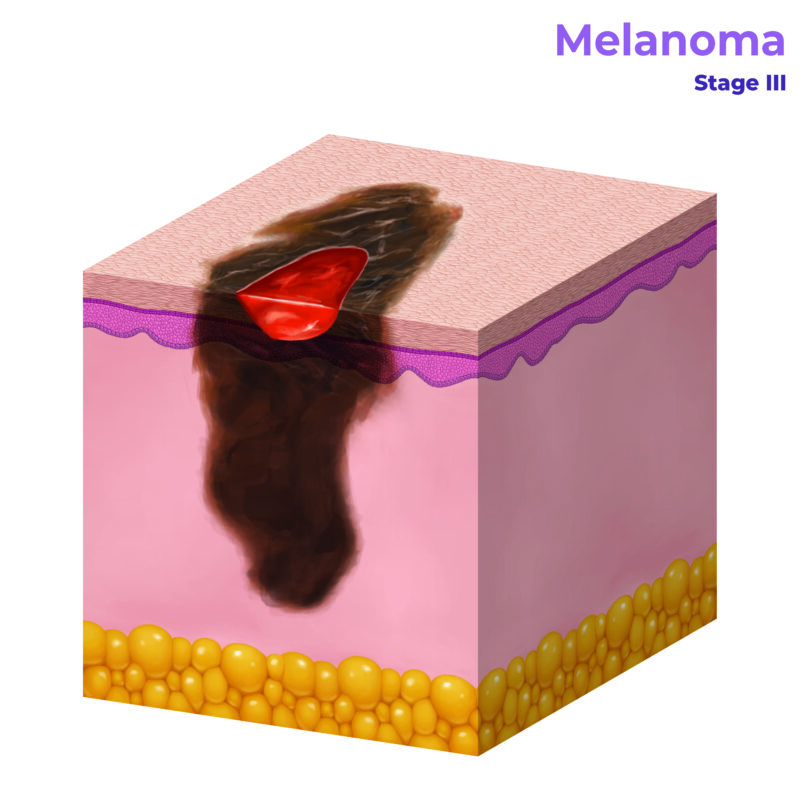 Stage IV Melanoma (metastasis beyond regional lymph nodes)
In Stage IV melanoma, the cancer has spread beyond the original tumor site and regional lymph nodes to more distant areas of the body. The most common sites of metastasis are distant skin and lymph nodes, then lungs, liver, brain, bone, and/or intestines. The level of serum lactate dehydrogenase (LDH) may or may not be elevated. Read more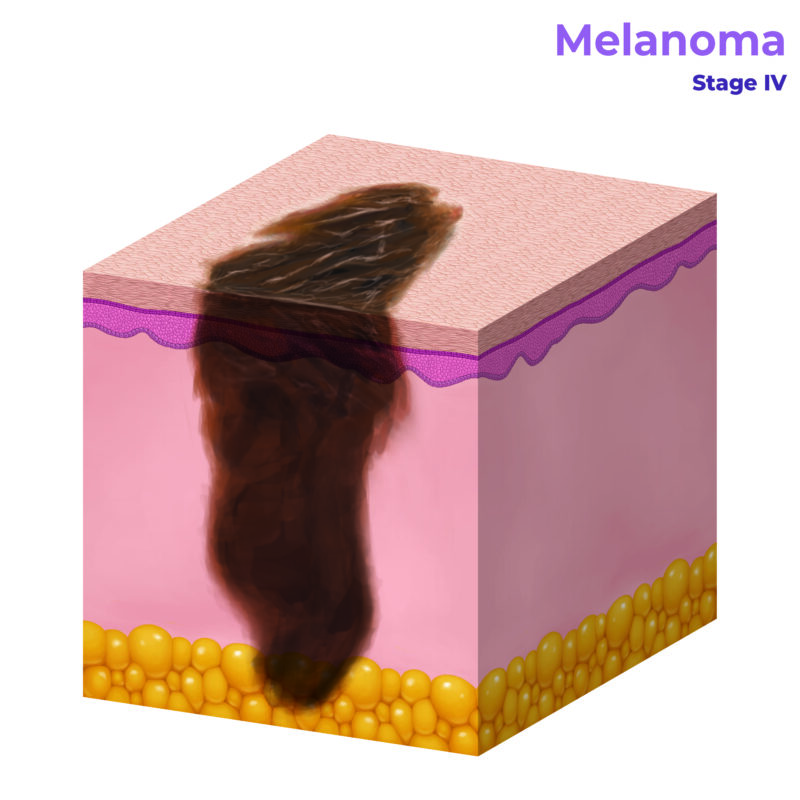 Brain Metastases
Brain metastases, a specific form of Stage IV melanoma, are one of the most common and difficult-to-treat complications of melanoma. They differ from all other metastases in terms of risk factors, diagnosis, and treatment. Read more